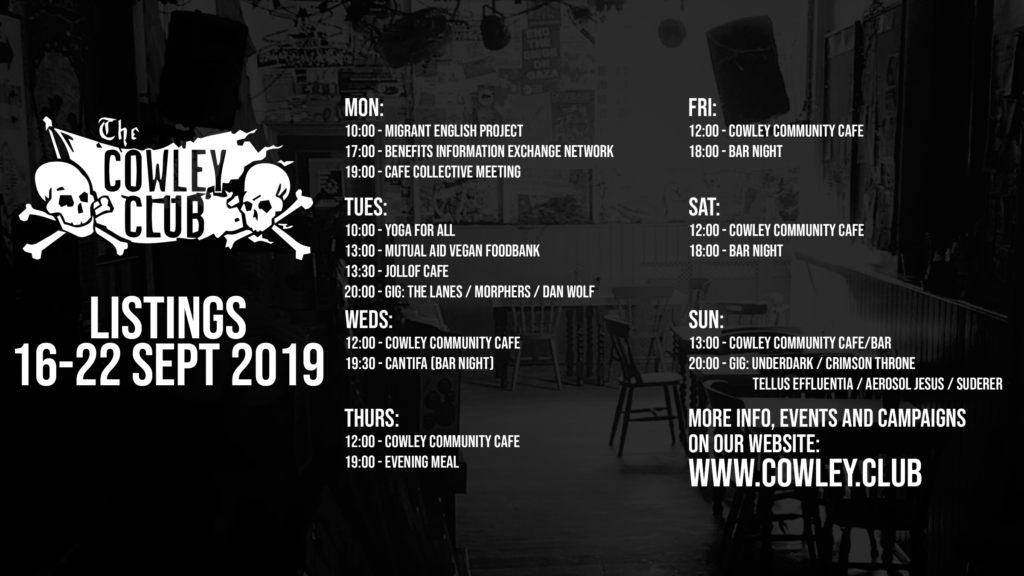 We're back!
We're back after our August maintenance! We've actually been open for three weeks, but forgot to update the website
Thank you to all the volunteers who got involved and helped fix up the club over the summer, and of course to all the generous folks who donated to our crowdfunder to get the roof fixed and make other much needed repairs to the building. There's still a lot of work to do, so if you have a spare couple of quid, we would still be grateful for any further donations to help keep Brighton's oldest vegan cafe, and only truly DIY space up and running
Tonight we have a new guest chef joining us, who will be cooking up a Pumpkin Katsu Curry, we open at 7pm and will start serving food between 7:30pm and 8pm. Come and join us for our weekly community meal, we can't wait!
This weekend we will be open all day on Friday and Saturday, with our cafe running through the afternoon, and then opening up the bar in the evening so you don't go thirsty during our climate chaos late summer heat
Then on Sunday we welcome Astral Noize for a night on blistering noise featuring the return of antifascist black-metal from Underdark, alongside Crimson Throne, Tellus Effluentia, Aerosol Jesus & Suderer
We have earplugs on the bar for free donation 😉